A Knitting Dictionary—The Letter B is the second in a series of posts that will eventually make up the Complete Knitting Dictionary a comprehensive knitter's resource of knitting words!
This post contains affiliate links, if you purchase items through my links I earn a commission which allows me to continue sharing posts like these.
See read my full disclosure policy here.
baby yarn
While this is not technically a yarn weight, this is a common alternative name for sport weight and sometimes for heavier fingering weight yarn (Craft Yarn Council #1 to #2).
Can also refer to any yarn that is soft and intended or suitable for babies.
back loop
Working a stitch through the strand of yarn that hangs on the back of the needle with traditionally (Western) mounted stitches. If you are reading this, this is most likely the way you knit.
This instruction usually produces either a twisted stitch or an increase when worked in combination with a stitch into the front leg of the same stitch.
What this instruction really means is to work the stitch through the lagging leg of the stitch.
If your stitches are mounted Eastern style (the leading leg to the back), you will work through the front loop, approaching it from the back.  Alternatively, you can re-seat the stitch and work through the back loop.
back of work
The side of the work that faces away from you as you are looking at the current row. Under normal circumstances, for flat knitting, this changes every row, for in-the-round knitting, the back of work is consistent for every row.
backstitch
A basic sewing/embroidery stitch (done with a sewing needle). It is a stitch used in seaming knits and also added as an embellishment (embroidery).
backwards knitting
(aka mirror knitting, Left-handed knitting)
Working knit stitches (as viewed from the front of the work) from left to right. This is one way of avoiding purling when producing stockinette fabric. It is used extensively for very short rows, such as those done in entrelac knitting.
backwards purling
(aka mirror purling)
Working purl stitches (as viewed from the front of the work) from left to right.
balaclava
(aka balaclava helmet, ski mask, bally)
A close-fitting hat that covers the whole head and the neck, with holes for just the eyes or the face.
It is named after the town of Balaklava, Crimea (now Russia) where these head covering were sent for British soldiers during the Crimean War (1853-1856)
balanced decreases
(see double decreases and multiple decreases). Contrast with balanced increases and decreases—see below.
Decreases where two, four or more even-numbered stitches are decreased at once. The stitch does not lean to the left or to the right but is balanced around the centre stitch. Usually the centre stitch is on top as with a centred double decrease (CDD)
balanced increases
(see centred increase and multiple increases). Contrast with balanced increases and decreases—see below.
Mirrored increase on either side of a stitch. For example, a (m1r, k1, m1l) combination, or a (k1, yo, k1) into one stitch.
balanced increases and decreases
In lace knitting this refers to having the same number of decreases as there are yarn overs (or other increases) to maintain the same number of stitches over the pattern. The increases and their corresponding decreases do not have to happen on the same row/round but do need to occur within the row repeat. These increases and decrease are in contrast to shaping increases and decreases that are meant to increase or decrease the total number of stitches thus shaping fabric, making it wider or narrower.
In a typical top-down triangular lace shawl for example, there will be shaping increases near either edge and on either side of the centre stitch. All other increases will be balanced within the lace patterning.
balancing stitches
In stitch patterns, these are the stitches on either side of the repeating portion of the stitch pattern when working the stitch pattern in flat. These are stitches are not required when working in the round.
ball
A yarn put up wound into a ball shape. Depending on how it is wound, yarn can be pulled from the centre or unwound from the outside.
ball winder
A tool used to wind skeins or hanks of yarn usually from a yarn swift. There are mechanical and electric versions available. Oddly, a ball winder usually creates cakes of yarn – a cylinder of yarn rather than a ball. Check the pattern instructions to see which increase to use.
You can get a ball winder from Knit Picks!



Yarn Ball Winder
ballet neck
A high, wide round neck.
bar increase
This name actually refers to two different increases. This is an alternative name for both the make 1 increases (m1) made into the bar between stitches and (more rarely) the knit front and back (kfb). Check the pattern instructions, if there is no definition, it likely refers to the make 1 increases.
m1—pick up the bar in between two adjoining stitches and knit it, twisting the stitch as you do.
m1l — pick up the stitch with the left needle from front to back. Knit the stitch through the back loop.
m1r — pick up the stitch with the right needle from front to back, place it onto the left needle. Knit the stitch through the front loop.
kfb — knit into the front of the next stitch, do not take the stitch off the needle, move the right needle to the back and knit through the back loop, slide the original stitch off the left needle. This is sometimes called a bar increase because the knit through the back creates a small bar.
Bavarian knitting
(aka Austrian knitting, peasant knitting)
A highly textured, knitting style that combines twisted and travelling stitches. It was extensively used in Bavaria, the rest of Germany, Austria and other Germanic countries,
beading
Beads added to knitting as the knitting occurs. There are two main ways to attach the beads to the knitting:
-beads are strung onto the yarn before knitting.
-beads are added to the knitting as stitches are formed (using a tiny crochet hook or needle and thread or another way of adding beads to stitches as you work).
-beads can also be added after knitting by sewing or embroidering the beads onto the finished fabric.
beanie
(aka a skull cap, toque)
A close-fitting, brimless hat.
being careful not to twist
When joining the cast on (or knitted fabric) to start working in the round, this instruction is a reminder to ensure that all your stitches are on one side of the circle of stitches with no twists. Lay your cast on stitches on a flat surface and create your circle. Ensure that the bulky part of the stitches are all on the inside of the circle (or square). Join. Then check again.
beret
A hat with a snug brim around the ears and a round, flat crown.
(aka tam)
bias
Fabric that is worked at an angle, created by increasing at one edge of the project and decreasing at the other. This enhances the stretch and drape of the finished project and adds a bit of interest as the columns of stitches are angled.
bill

A projecting brim that is only on the front of a hat. It was originally devised as a sunshade.
(aka peak, brim, visor)
bind off
(abbreviation: BO)
(aka cast off)
A technique to end columns of stitches and end the knitting. It prevents the stitches from unraveling.
A bind off is typically used to finish off the knitted piece. It is also used to shape small portions of a fabric or to create buttonholes, decorative holes
There are a huge variety of ways to bind off. The most common is the standard bind off, a firm bind off that is great when you need sturdiness but no stretch. The lace bind off is a much stretchier bind off good for socks and lace and other places that need stretch. There are many other variations of the bind off, be sure to explore a large variety and then choose the best one for the job. The best way to do this is to swatch. Different possibilities.
Standard bind off: Work two sts, on the right needle, pass the second st over the first. *Work 1 st, on the right needle, pass the second st over the first. Repeat from * to the end. Cut yarn and pull the end through the last bound off stitch.
Lace bind off: Work 1 st, *work 1 st, sl the two stitches to the LN and k2tog tbl, repeat from *. Cut yarn and pull the end through the last bound off stitch.
blended decreases
Decreases that slant in the same direction as the shaping (as per the TKGA). Left leaning decreases that are near the right edge of the piece as it is decreasing towards the left. Right leaning decreases that are near the left edge of the piece as it is decreasing towards the right. Contrast these with full-fashioned decreases.
block (blanket or afghan)
Square or other shaped pieces meant to be sewn or otherwise assembled into larger pieces, usually a blanket or afghan. Blocks can similarly be assembled into garments, scarves, pillows or any other finished project.
block (blocking)
The process of washing (or steaming) and shaping your knitted fabric (swatch, project or parts of your project) after taking it off the needles. This evens out the stitches, helps the work to lie flatter, sets the finished size and can be used to enhance cables, lace and other stitches.
Sometimes, it includes gently stretching the fabric, usually to emphasize lace stitches. Other times, it includes shaping or plumping up cables, or enhancing shaping of a project.
Ways to block knits:
Wash (according to the yarn label directions), squeeze out excess water (do not wring), roll into a towel to squeeze out more water.
Then lay out the fabric on a flat damp-proof surface, smooth with your hands and allow to dry.
For lace, lay out the fabric on a flat surface and pin out to open up the lace according to the pattern directions and dimensions.
Allow to dry completely before moving (this can take a few hours to a few days).
OR
Lay out the fabric on a damp-proof surface. Pin into shape. Set your iron or steamer to a low temperature steam and hold the steam over each are of the fabric for a few seconds. Be extremely careful not to touch the iron to the fabric. You can use a very damp pressing cloth to protect the fabric from the iron or steamer.
Allow to dry fully before moving the knit fabric (this can take a few hours to a few days).
blocking pins/mats/wire/combs
Materials used when blocking knits. T-shaped stainless-steel pins are used to pin the fabric to a blocking surface. The most common surface is foam squares that can be pieced together like puzzle pieces. Stainless-steel wires are used to thread through an edge of a finished fabric to make pinning out easier. Blocking combs are small strips of several pins encased in a plastic comb-like holder. These make blocking go faster as you pin more surface at once (as compared to single pins).
I love some of these from Knit Picks!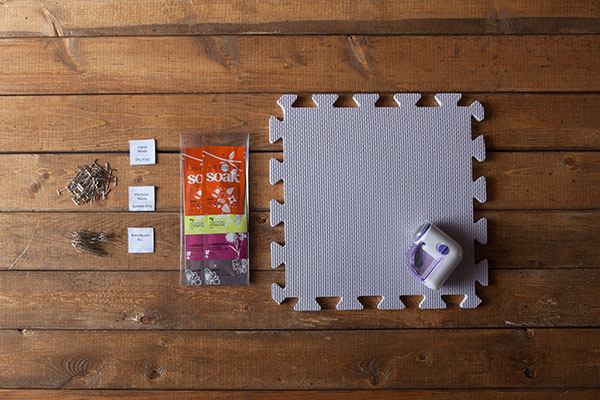 Blocking Starter Tool Kit
bloom
(aka blooming or yarn bloom)
The tendency for some yarns to become fuller and to fill up open spaces within the fabric after washing. Blooming is one of the many reasons that blocking your gauge swatch is essential when knitting, especially if the finished object should fit a specific person. Blooming is more likely to occur with protein (except for silk) fibres than cellulose or synthetics fibres.
boat neck
A wide, horizontal neck opening where the front part is at or just below the collar bone. The two sides of the neck are usually straight.
bobble
A decorative raised stitch formed by increasing rapidly and then decreasing those same stitches away rapidly, all on the same row or round. Bobbles use short rows to create extra fabric on a single row
bobbin
Small bundles of yarn wrapped either on their own (butterfly bobbins) or wrapped around small holders (bobbins). Often used in intarsia colourwork.
bonnet
A hat that ties under the chin. It is most used by small children but used to be staple women's headwear. It usually falls fairly straight at the face, well in front of the ears, close to the chin.
Also, a Scottish bonnet is a man's cap similar to a tam (not to be confused with a scotch bonnet which is a fairly hot pepper).
border
An edge of a knitted piece. It can be integrated into the knitting or can be attached after the main part of the fabric is finished (attached border or sewn).
boustrophedon
Not a knitting term, but a word that can apply to knitting. Boustrophedon is a linguistic and cryptographic term that means bi-directional, with alternate rows being reversed (sometimes with reversed letters). The term can apply to knit fabric worked flat.
bottom-up

Worked from the bottom of the project up to the top.
box pleats
Two pleats that face each other and create a flat fabric with the two sided pleat underneath.
bracelet length
A sleeve that ends just above the wrist bone.
braid
There are a variety of braids in knitting. See also, braided cast ons below.
Latvian braid
(aka herringbone braid)
A beautiful, decorative, three-dimensional braid often used right after the cast on and also in the middle of a knitted piece. Usually done in two colours, it can be done in one colour (using two strands) or in more than two colours.
This braid is worked over two rows with an optional set-up row before the actual braid is worked.
Lateral braid (aka Estonian braid, horizontal knitted braid, Vikkel braid)
A decorative element that looks like a column of knitting worked sideways, laying over stockinette stitch or some other stitch pattten. It is often done in the main colour of the fabric but can be done in a contrasting colour or with more than one colour.
This braid is worked over one row or round.
braided cast on
This is one of a number of cast on techniques that combine more than one colour to create a decorative cast on edge.
braided cast on
(uses 2-5 colours)
(aka two-colour long tail cast on, three-colour cast on)
This is a variation on the long tail cast on that introduces more than one colour into the cast on.
Kihnu Troi braided cast on
(aka Estonian braided cast on)
Originated in Estonia (Kihnu is an Estonian Island) The braid is on two sides.
It is finer than the long tail cast on followed by the Latvian braid.
Braided knit cast on
A regular knit cast on, alternating two colours for each stitch.
brim
A projecting edge usually going all the way around the bottom of a hat. It is used as protection from sun and rain.
brioche
A cushy knitted fabric created by slipping a stitch at the same time as creating a yarn over on one row and then working the slipped stitch and the yarn over on the next row. It shares some properties with ribbing and with double knitting.
button band
A strip of fabric attached to a garment after basic assembly. It is a more tightly knit, lay-flat section of fabric that has button holes and holds the buttons (opposite the button holes). It finished the sweater, helps it to lay flat and keeps the front edges from stretching to much with wear.
Stephanie Mason has a great post on knitting button bands.
buttonholes
Intentional holes made to pull a button through, created with yarn overs or by binding off and then casting on stitches.
buttons (knitted)
Buttons made from yarn that matches or contrasts to the yarn used in the project itself. Some of these are entirely made of yarn, others are created by attaching knitted fabric to a base.
button loop
A loop of yarn that a button goes through. It can be knit concurrently or added after the rest of the project is finished.