A Knitting Dictionary—The Letter C is the another in a series of posts that will eventually make up the Complete Knitting Dictionary a comprehensive knitter's resource!
This post contains affiliate links, if you purchase items through my links I earn a commission which allows me to continue sharing posts like these.
See read my full disclosure policy here.
To get to the other posts of this series, go to the main Knitting Dictionary Post
cable
A knit cable is a beautiful technique that looks like sinuous lines of knitting crossing each other over the surface of the fabric. Cables are simply stitches knit out of order.
cable needle (cn/CN)
A short needle used to hold a few stitches apart from the main needle when rearranging stitches to work a cable.
There are many different types of cable needles: very short double pointed needles, short double pointed needles with ridges (to help hold the stitches on the needle), u-shaped needles, needles with a dip in them, very short needles joined by a very short cable.

Caspian Options Cable Knitting Needles | KnitPicks.com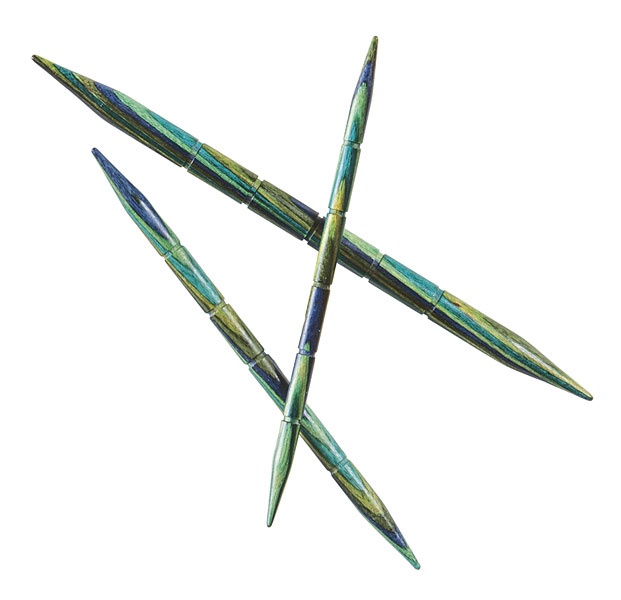 cap sleeve
A very short sleeve that goes over the top of the shoulder, with little or no length at the underarm.
cardigan
A knitted sweater that opens down the front. Cardigans often have buttons or other closures and often have long sleeves. Named after the seventh Earl of Cardigan (who was a commanding officer in the Crimean War, and the leader of the infamous Charge of the Light Brigade).
cast off
(see bind off)
A technique to end columns of stitches and end the knitting. It prevents the stitches from unraveling.
cast on
A technique to place stitches on a knitting needle to start working a knitted piece. This is can be at the beginning of a project or stitches can be cast on to widen the knitted piece or to close up a hole made by binding off (when doing a button hole or similar.
centred decreases (centered decreases)
A decrease that neither leans left nor right but is centered between the stitches that are being decreased. These include a centred double decrease (3 sts decreased into 1), a bunny ears decrease (3 sts into 2).
centered double decrease (CDD)
This is usually referred to as a CDD.
From the knit side, slip 2 as if to knit together, knit one and pass the two slipped stitches over.
From the purl side, there are several ways of approaching this decrease.
centred increases (centered increases)
An increase that neither leans left nor right but is centered above the stitch that is being increased.
Double increases:
*  kyok,
*  lifted right increase, knit, lifted left increase;
*  kbf, pick up the twisted part of the stitch you just dropped off the left needle (looks like a strand going straight up between the two new stitches with the left needle and knit into it.
chain stitch
An embroidery technique used on finished knit fabric as an embellishment. It is done with a tapestry (yarn) needle.
change to . . .
A knitting instruction in a pattern that refers to stopping to use a yarn or needle size or type and switch to another.
This instruction is often used when changing yarn colours. In this case, you drop one colour and then work the next stitch with the other colour. You can weave the yarn ends in as you work, you can leave them loose and weave them in after knitting or you can do a Russian join or similar to secure the ends.
The phrase is used when instructing someone to change needle sizes or length/type. For example, for a hat, you might work the cuff using a 3.5 mm (US 4), 40 cm (16") circular needle, then switch to a 4 mm (US 6), 40 cm (16") circular needle for the body of the hat and then switch to 4 mm (US 6) double pointed needles when there are no longer enough stitches to comfortably fit around the 40 cm (16") circular needle.
chart
A visual/graphic representation of the knitted fabric with symbols that give directions on how to work it.
Usually, charts are presented in grid format where each cell represents a stitch.
chart holder
A metal and magnetic board to hold your paper chart and help you keep track of where you are on the chart.

chevron stitch
Any of a grouping of stitch patterns that uses increases and decreases to make horizontal zigzags across the fabric.
chicken knitting
circle shape
A project or part of a project that is circular, where all the edges are an equal distance from the centre.
circular knitting
(aka Knitting in the round)
Stitches are cast on and the last stitch is connected to the first stitch, joining the work into a circular fabric that creates a seamless tube. The fabric is worked in a "rounds" but is actually a spiral.
When working in the round, the right side of the work is always towards you are you are knitting.
circular needle
Two needle tips joined by a flexible cable or cord.
When choosing a circular needle consider both needle size and total length as both are important, especially when working in the round.
A circular needle can be used in several ways. The three most common are:
to knit in the round where the circumference of the knit fabric is a bit larger than the circumference of the needles. For example, knitting an adult hat on 40 cm (16") circular needle
to knit small circumference fabric with much longer circular needles. This is called magic loop knitting. For example, knitting a sock on 80 cm (32") circular needles.
to knit flat pieces back and forth. This is particularly helpful for wide projects such as blankets, shawls, etc. Once you finish a row, move the needle tip that is in your right hand into your left and vice versa.
circular yoke
A sweater yoke which expands fairly evenly from neck to underarms. It can be knit top down or bottom up.
cluster stitches
There are a number of stitch combinations that are called cluster stitches.
The most common is a group of stitches that have the working yarn wrap around stitches a number of times.
Other variations include several stitches passed over a single other stitch.
collar
A piece of fabric attached to the neck opening on a garment. Usually adds a decorative element.
colour knitting (color knitting)
There are many styles of colour knitting, some include holding only one strand of yarn and some require you to hold multiple strands of yarn at once. Here is a list of many of the styles of colourwork.
applied/embroidered–contrasting colours are embroidered, crocheted or otherwise applied after the fabric is created.
Armenian knitting (2 colours at a time)–A stranded technique developed in Paris in the 1920s, where intarsia like designs were knit while stranding the motif colour throughout the project and trapping it  regularly, causing the motif colour to peek through and create a marled effect.
Bohus (Sweden) (2+ colours at once)–Developed in the 1940s, this style uses 2 to 5 different colours on a row or round, the most distinctive feature is the use of purl stitches in addition to knit stitches in the colourwork.
brioche–Usually worked with one colour at a time, each row requires two passes. Alternate stitches are slipped while a yarn over is created at the same time. These two stitches are then worked together on the next row. This creates a thick layered fabric related to ribbing and double knitting but giving a unique texture when worked in two colours.
cables–A variation of intarsia, where the contrasting coloured sections create cables over sections of the background.
double-knitting (2 strands)–Two layers of stockinette fabric can be created at the same time on the inside and outside of the work. When working with two colours you can create stranded effects with out stranding. It is possible to do this holding only one yarn with two passes per round or row.
entrelac (2 colour at a time)–Interlocking diamonds (traditionally) are knitted using short rows. Subsequent rows of diamonds fit in between the diamonds of the previous row.
Fair-Isle (Shetland) –A style of stranded colourwork from Fair Isle (part of the Shetland Islands) that is characterized by using only two strands of yarn per row, colours of the background and foreground change regularly, patterns are usually small and geometric, without long stretches of either colour.
intarsia–One colour is worked at a time in sections that are connected to one another. Usually intarsia is worked flat (though there are ways to work it in the round). Each section of colour across a row normally has its own bobbin (small ball) of yarn.
ladder-back jacquard (invisible stranding)–A cross between stranded knitting and double knitting for situations where there would otherwise be very long floats. These floats are caught on the back of the work using a technique similar to double knitting.
Lopapeysa (Iceland) (2+ colours at once)–A stranded colourwork developed in the early to mid 20th century in Iceland. Usually used in round yoke sweaters with geometric designs often incorporating more than 2 colours in a round. Traditionally, this colourwork is done with unspun lopi yarn. The Grasker Hat incorporates a Lopapeysa inspired design.
multi-coloured yarns (single strand)–colours change due to colour changes in the yarn itself. No special stitches or techniques are required.
Peruvian (varies) – Tight stranded knitting which incorporates tiny bobble-like elements (q'urpu) and edged with puntas and picas (hills and valleys that form scallops). Yarn is traditionally tensioned around the neck.
Roositud–Solid knitting has other coloured yarns laid into it, creating embroidery-like patterns while knitting the background fabric.
Selbu (Norway) (2 colours)–This style of knitting featuring the Selbu Rose (originated by an 11 year old girl in 1857) most commonly used on Selbu Mittens, but also used on gloves, socks, hats and scarves. Originally knitted in black and white, often these designs are now knitted in a red and white, blue and white or other colour combinations.
Setesdal (Norway) (2 colours)–Traditional black and white stranded knitting. The defining element is the lice stitch, which is traditionally single stitches on a field of a contrasting colour, combined with geometric bands. Often these sweaters of this style had embroidered collars and bands.
stranded (2+ strands at once)–Colours change within the row. the other colour of yarn is carried at the back of the work. This style includes Fair Isle, Loapeysa (Icelandic), Selbu (Norwegian), Setesdal (Norwegian), Bohus (Swedish), Peruvian, Armenian (which is actually not Armenian).
stripes (single strand per row)–Colours change at the end of rows or rounds. No special stitches or techniques are required.
twined knitting (2 colours or 2 strands of the same colour)—Two strands of yarn are worked across a single round, twisting the yarns between each stitch, producing a thick, warm fabric that biases and twisting the yarns so much so that it needs to be untwisted regularly. Unique and interesting colourwork patterns can result.
vertical stranding—A variation of stranding and intarsia where single columns of stitches of a different colour are worked on a solid background. When a knitter gets to the accent colour, the main colour is stranded behind and the accent colour is used to work the appropriate stitch.
contiguous shoulder
Shoulder and sleeve cap are knitted in one seamless piece from the back of the neck down. Increases are worked on either side of where the shoulder seam would be, then on the sleeve, those increases are moved to either side of each sleeve as it grows.
combination knitting
A method of knitting where the yarn for a purl stitch is wrapped in the opposite direction (clockwise*) to the way it is wrapped around the needle for a Western purl (counter-clockwise*). However, even though you are going around the tip of the needle in the opposite direction in combination knitting you are actually wrapping the yarn the same way as for a knit stitch.
*Note: THIS IS IMPORTANT—the direction when viewed from the working needle tip.
concurrent edging
A term I use for edgings that are knitted at the same time or in the same direction as the body of a project.
condo knitting
This technique uses two, very different needle sizes for alternating rows or rounds. Usually condo knitting is done with the garter stitch but can be done with almost any stitch. There are some lovely variations.
The technique gives a similar finished project as when working horizontal drop stitch, extended or elongated stitches.
continental knitting
(aka picking, German knitting, European knitting)
A style of knitting where the knitter holds and tensions the yarn in the left hand.
It is a great style of knitting for left-handed knitters as some of the work is done with the left hand and instructions can be followed without transcribing from left to right.
Many knitters claim that continental knitting is faster, but there is no consensus on this.
It is easier to do ribbing with continental knitting because the movement of the yarn from the back of the work for knit stitches to the front of the work for purl stitches is a much smaller movement.
Crocheters may find it easier to learn to knit with continental knitting because holding, tensioning and scooping the yarn are almost identical to those of crochet.
continue in pattern
Keep working the pattern the way that you have been working it until now. Work that pattern as it has been established in the preceding section. If, for example you have been working in 2 by 2 ribbing, keep doing 2 by 2 ribbing.
You may be following other instructions while working the "established pattern". For example, you may be doing increases or decreases while maintaining the pattern from the preceding section.
convertible
A pattern element that can change from one style or function to another. For example, convertible mittens can be used as fingerless gloves or as mittens when the flap is secured over the fingertips.
corrugated ribbing
A non-elastic, two-colour ribbing where knits are done in one colour and the purls in another. Often used on the cuffs of mittens, gloves, sleeves or hem of stranded colourwork projects.
course
(aka row)
A single row of knitting going from one edge of the fabric to the other.
Cowichan (Salish)
Colourwork sweaters originated by the Cowichan or Salish peoples of British Columbia, Canada. The sweaters traditionally use natural colours (off-white, greys and browns), are done in bulky yarns and have geometric or animal inspired motifs. These sweaters were popularized as souvenirs purchased from the Salish peoples. Patterns and kits for similar sweaters were available from White Buffalo Mills and from Mary Maxim.
cowl
A neck covering that is tube shaped. It slips over the head and drapes around the neck. It can be close fitting or very long and drapey. It can be knit in the round or knit flat and then the two ends cam be seamed, grafted or even buttoned together.
Very long cowls are also called infinity scarves.
Crimean war
A war on the Crimean Peninsula (part of Russia) October 1853 to February 1856 between Russia and an alliance made up of Britain, France, the Ottoman Empire and Sardinia. The war was ostensibly fought over religious differences.
This war lead to the development of (where are least three different knitting terms came from balaclava, cardigan and raglan),  Baron Raglan was the earl of Cardigan's commanding officer at Balaclava.
crochet (in knitting)
Crochet is used to as a provisional or permanent cast on.
It is also used to create a decorative edging around the perimeter of knitted fabric and used to "embroider" chain stitch on knitted fabrics.
crochet hook
Used to fix dropped stitches. It is always handy to have a crochet hook in your project bag.
A crochet hook can also be used to create a crochet cast on or crochet provisional cast on, to add a crochet edging to a project or to decorate knitted fabric with a crocheted surface embellishment.
crochet cast on
A cast on where yarn is crocheted over a knitting needle to get the loops onto to the needle. Once the yarn is crocheted onto the needle, the crochet hook is set aside and the stitches on the needle are knitted as usual.
If a waste yarn is used to crochet over the needle, this yarn can later be removed to reveal live stitches for working in a different direction or for grafting.
crossed stitches
Usually refers to the "Indian Crossed Stitch" where one set of elongated stitches is passed over one another before being knit. This creates an interesting texture where only one leg of each crossed stitch shows on either side of the fabric.
curl
Edges of stockinette (or any knitted fabric where there are significantly more knits than purls on one side) curl. The sides curl towards the purl side, the top and bottom curl towards the knit side. This can be compensated for or it can be enhanced.